Blueberry Nut Oat Bran Muffins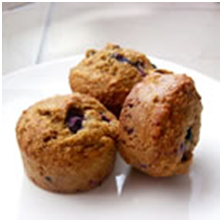 This is a delicious and lighter version of a type of oat bran muffin. You could vary the fruit - blueberries, strawberries, canned peaches, etc. They are incredibly delicious served with fresh strawberries.
Categories:
Ingredients
1 1/2 cups oat bran
1 1/2 cups all-purpose flour
1/2 cup packed brown sugar
2 teaspoons baking soda
2 teaspoons baking powder
1 teaspoon ground cinnamon
1/2 teaspoon salt
1 1/8 cups applesauce
1/2 cup egg substitute
2 tablespoons canola oil
1 teaspoon vanilla extract
1 1/2 cups blueberries
1/4 ounce chopped pecans
1/2 cup low fat granola
Directions
1.Preheat oven to 400 degrees F (200 degrees C). Line a 12 cup muffin pan with paper muffin liners, and spray liners with cooking spray.
2.In a large bowl, mix the oat bran, flour, brown sugar, baking soda, baking powder, cinnamon, and salt. In a separate bowl, blend the applesauce, egg substitute, canola oil, and vanilla extract. Thoroughly mix the applesauce mixture into the flour mixture. Fold in the blueberries and pecans. Spoon the batter into the prepared muffin cups. Sprinkle batter with granola, and press granola lightly to make it stick.
3.Bake 18 minutes in the preheated oven, or until a toothpick inserted into a muffin comes out clean. Cool on a wire rack.
Nutritional Information
Servings Per Recipe: 12 ,Calories: 191 Amount Per Serving ,Total Fat: 4.4g ,Cholesterol: < 1mg ,Sodium: 397mg ,Total Carbs: 37.6g ,Dietary Fiber: 3.4g ,Protein: 5.5g ,:,